It's only fair. Not to compare apples and oranges, but the
size map for bananas
was
up last week, so now it's time for the mellons.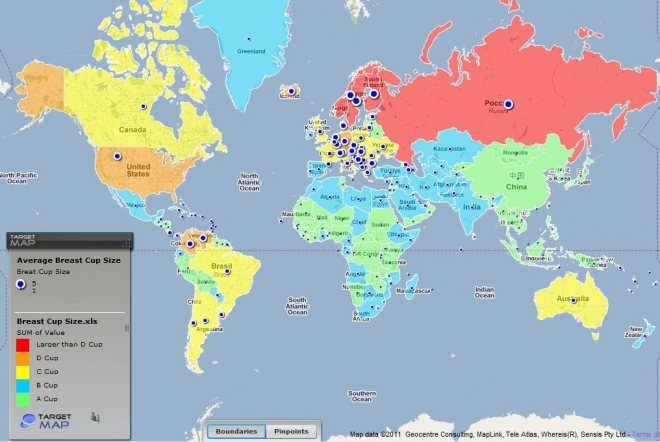 The more one ponders the broader implications of the regional disparities, the more some things about our world start making sense.
China: A cup
Japan: A cup
Small breasts means less milk; which means less nutrition for growth during that critical first year, which means smaller people overall. The availability of baby formula in the modern era came far too late to mitigate millenia of half rations. There's a lot more jockeys in those countries than basketball players.
I assume Yao Ming had a Russian wet nurse.
Russia: D+ cup
Maybe there is such a thing as too much of a good thing. Outside of the popular girls from "Keeping up with the Kremlinettes", maybe having so much eye candy everywhere is too distracting. It could have been a contributing factor to the collapse of communism. Who wants to counter the capitalist menace by deploying missiles around the world when Olga's silo's are practically spilling into your lap?
Italy: C cup
Germany: D cup
Is this why the Romans went north and invaded Germania? Plundering the Persian empire to the east and North Africa to the south for boatloads of their baubles and bullion may have brought them satisfaction, but the native B cups of those regions did not. For that, they had to march north.
USA: D
Very near the top, but not quite there. Don't count the americans out quite yet. As the breast augmentation capital of the world the USA is determined to close the booby gap by any means necessary.
So why is this
IF I Were God

...
material?
Not just for the sake of fairness and balance after last week's
penis size map
, but to again point out another missed opportunity. Women like men (in general), men like breasts (in gen- always). It makes the draw of a nice rack a very huge plus for the women who have them, but gives a confidence lowering disadvantage to the women who don't. Not. fair. If I were god I'd have it be earned. (
like beauty
)
Personalities are pretty much set by the time girls hit puberty; who they are is set before their cup size is. I'd simply let that be the trigger for growth. The nicer you were, the more it would show. Mother Theresa would've been the new Pam Anderson. Her work with the poor would've received a lot more attention than it did and I'm sure donations to her charity would've been through the roof. "Her heart was so big, it was nearly bursting through her chest!"
Pretending
to be nice wouldn't be possible. The proof of how genuine a woman's smile is would be hanging right below it. And the real sweethearts? You could spot them a mile away.
Ah, what a world it would be, if I were -you know.
As always,

If I Were

God appreciates comments, ad-clicks and sharing of His articles.
He sees all; disappoint Him not.